This message was sent to the Rockefeller community from the Office of the President on May 8, 2020 at 10:54 a.m.
Subject: COVID-19 update from the president

Dear Colleagues,
Greetings! The weather has been (mostly) beautiful the last week, and with the COVID-19 trends in NYC continuing to move in the right direction, there's reason for some optimism, furthered by the news that several vaccines have entered early clinical trials.
Over the last week statewide, new hospitalizations for COVID-19 and deaths from the virus continue their steady decline. Also, the percentage of tests for viral RNA in Manhattan that are positive continues to drop, reaching to a 3-day average of only 8.0%, down from 14% a week ago and 47% a month ago.
On campus, our Occupational Health Services office reports that the number of community members being monitored for possible infection continues to go down and is at the lowest level it has been since early February, with only 5 people on the list last evening. Importantly, and to our relief, no one in our immediate community has required hospitalization for COVID-19. It is encouraging that the campus has fared well despite having about 400 people on campus on a daily basis the last 7 weeks.
Since my last note, the state has completed a survey of the prevalence of antibodies to the virus in people across New York in a study of 15,000 people. These antibodies are indicative of a typically past infection with the SARS-CoV-2 virus that causes COVID-19, and tests have only become available in the last few weeks. While the prevalence of these antibodies was low – found in 1% – 3% of people in most parts of the state, they were found in nearly 20% of people in NYC, including 17.3% in Manhattan. This tells us that for every person who has been diagnosed with a viral RNA test in NYC, there have been ~10-fold more individuals who have been infected but never diagnosed by testing. This result carries some good news, as it means the fraction of people who develop serious complications of infection is correspondingly ~10-fold lower than previously recognized. While it seems likely that people with these antibodies have some level of immunity to reinfection, the degree and duration of protection is presently unknown. As a consequence, people who have antibodies should not assume they cannot be reinfected and should continue to practice frequent handwashing and social distancing and should continue to wear masks in all public spaces. I note that there are many antibody tests being marketed in our community; some of these have high false-positive rates, meaning that a positive test might not be correct. I caution you about getting tests that are not approved by the FDA, and which have not demonstrated a low false-positive rate, preferably less than 1%. We are hoping to be able to offer antibody screening as we begin reopening the campus.
Earlier this week Governor Cuomo announced criteria that each of the state's 10 regions (of which New York City is one) must meet before each begins a phased reopening of economic activity. It is likely that some rural parts of the state that have had low infection rates may begin phased reopening after May 15, but it is unlikely that NYC will be included in this group as some of the required criteria have not yet been met. Nonetheless, it is clear that conditions are significantly improving in the city and heading toward a cautious and gradual reopening of activities.
We consequently are planning for our reopening, which will also occur in phases on a timeline that remains to be determined. We are in close touch with our tri-institutional partners to coordinate planning for restarting research. Amy Wilkerson, vice president of research support, has also been meeting regularly with representatives of approximately 30 other NYC institutions to share information and develop best practices for a safe reopening. Rockefeller's Research Restart Committee is working to develop a set of guidelines that will allow a phased increase of research activities while emphasizing the maintenance of a safe environment on campus.
On the research front, I'd like to draw your attention to a new Rockefeller COVID-19 microsite launched this week, where details and updates on the university's COVID-19 research will be posted regularly. The site also features a growing collection of conversations and discussions with Rockefeller faculty. To increase our outreach and connections to our community of friends and benefactors, we have been conducting webinars every two weeks, entitled "Virtual Discussions with Genuine Experts," that present an overview of the current state of the pandemic and issues going forward, along with a presentation by one of our scientists working on COVID-19, followed by a Q&A session. One of these was held yesterday and had over 600 people in attendance to listen to Jean-Laurent Casanova talk about the genetics of extreme outcomes for infectious diseases, including SARS-CoV-2.
Lastly, two weeks ago, I shared with you news about the installation of a colorful sign on 68th Street celebrating essential workers at NewYork-Presbyterian Hospital. Afterward, IndieWalls (@indiewalls) contacted the university to ask if there might be interest in an additional sign. We of course thought of a similar sign on the west side of the tennis court, facing the main entrance to Memorial Sloan Kettering Cancer Center on 67th Street, in appreciation of that organization's essential staff. IndieWalls identified the artist, Jason Naylor (@jasonnaylor), who developed the eye-catching graphics for the sign, which was installed yesterday with the help of members from plant operations, grounds, and security. Ari Grazi from IndieWalls and Jason Naylor were on hand to distribute 300 individual prints to nurses and other essential staff from MSKCC (see photo below).
We are fortunate to be part of, and surrounded by, remarkable communities of supremely talented and dedicated people, all playing vital roles in saving lives in the midst of a pandemic of historic proportions. I look forward to sharing more information about our planning in future updates. In the meantime, please continue to check in on your friends and neighbors (virtually, of course) and support your campus colleagues. Our strength as a community is built on our camaraderie and respect for one another, and it's more important than ever to keep in touch.
With all best wishes,
Rick
Richard P. Lifton, M.D., Ph.D.
Carson Family Professor
Laboratory of Human Genetics and Genomics
President
The Rockefeller University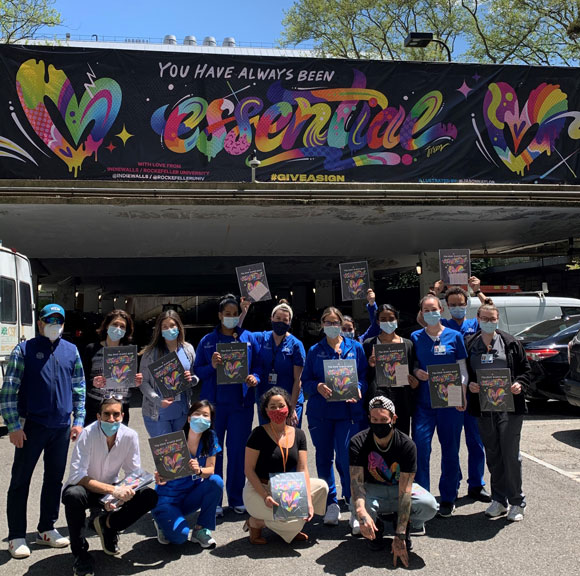 Photo: James Rogers